Item# 621 Wrecker Mailbox...$220.00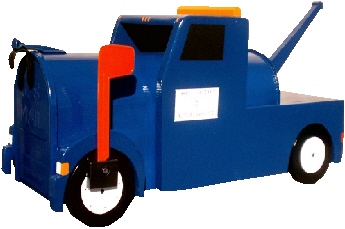 Try this out for size. We have wrecker mailboxes that will literally catch notice of most all traffic in front or by your business. We can make this any color you want (no extra charge) and or can even make modifications to it to match your wrecker (prices may vary). So go ahead and get your new custom mailbox wrecker that will surely not only be a hit with your family and friends but also to your customers and just plain old aquaintances.  Made of top quality metal and wood with multiple coats of clear and wood protectants to last years.

All Rights Reserved. Copyright © Dean's Custom Mailboxes  All Images

Please allow 6-26 weeks or longer for your mailbox to be built and shipped.