All Rights Reserved. Copyright © Dean's Custom Mailboxes  All Images

Please allow 6-26 weeks or longer for your mailbox to be built and shipped.

These are hand made as ordered and I stay backed up.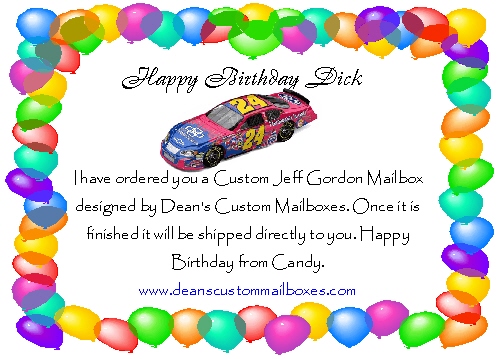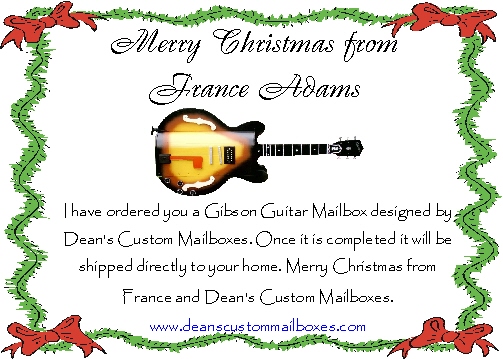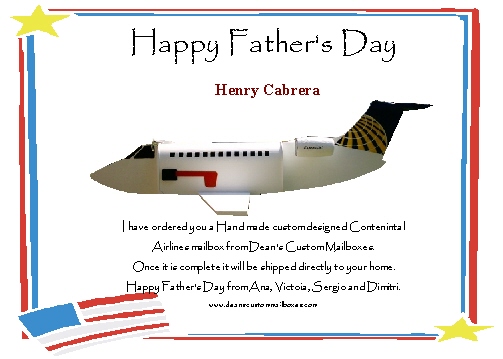 Here you will be able to see examples of our gift cards. If you need your mailbox in a certain time frame then we offer these to give to the recipient wether it be for Christmas, Valentines Day, Fathers Day, a Birthday or any occasion. When you order just specify which you would like and the recipients name and whom it is from and we will custom your gift card for you and send it to you ASAP so you will have it in plenty of time for that special occasion.  We also have a "Gift Certificate" if you do not know what they want and you just want to let them decide for themselves. An example of that is below as well. All cards are on professional grade paper and printed with the highest quality inks available.  Nothing cheap here so do not hesitate with ordering now!!!!

Gift Certificate

Email us when wanting a gift certificate